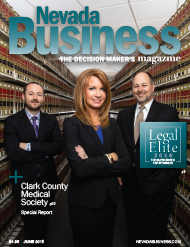 Jay Kenyon was recently recognized in the 2016 edition of Nevada Business Press's Legal Elite. 
Mr. Kenyon has been practicing law in Las Vegas for nearly 19 years. His practice focuses exclusively on personal injury cases, including motor vehicle accidents, spinal injuries, catastrophic brain injuries, and excessive force by security guards.
Mr. Kenyon is licensed in both Nevada and California, and currently serves on the State Bar of Nevada Personal Injury Specialization Board.
Now in its ninth year, Legal Elite highlights Nevada's top attorneys as chosen by their peers. Polling for the 2016 list began in February of this year and over 6,000 nominations were collected from licensed attorneys throughout the state.