Yan Kenyon is pleased to announce that Attorney Jay Kenyon has been certified as a specialist in the field of Personal Injury Law by the Nevada Justice Association.
Per its Mission Statement, the purpose of the Personal Injury Specialization is to identify to the public and the Bar those lawyers who demonstrate superior knowledge, skill, integrity, professionalism, and a high degree of competence in the field of Personal Injury so that the public can more closely match its needs with available services, and to permit lawyers to better serve the public by increasing the quality of legal services. An additional purpose is to assure that persons who hold themselves out to be Perso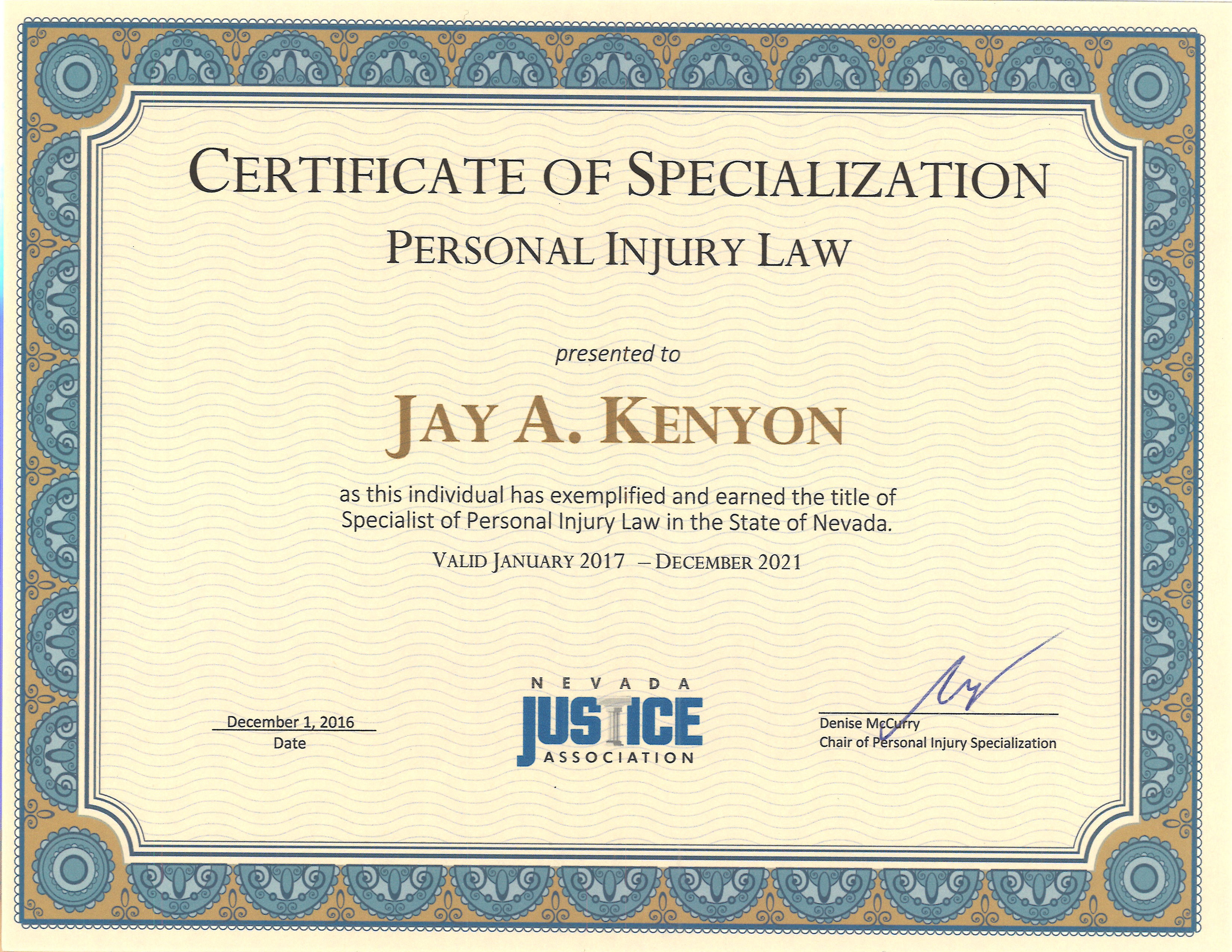 nal Injury Specialists have liability insurance for the protection of the public.
To obtain certification an attorney must be licensed in Nevada for a minimum of seven years; devote a majority of his or her practice to the field of personal injury law; have conducted a minimum number of trials; meet stringent ethical standards; and pass written and oral examinations.
In addition to being certified as a Personal Injury Specialist, Mr. Kenyon has also been appointed to serve on the Personal Injury Specialization Board, charged with drafting and implementing next year's written and oral exams, and reviewing the applications of attorneys desiring to obtain their certification.
Jay Kenyon, who is licensed to practice law in both Nevada and California, has also received an AV® Preeminent™ Rating of 4.9 out of 5.0 from Martindale-Hubbell, achieving the rating agency's highest marks for both competency and ethics.
Jay Kenyon is a founder of the law firm of Yan Kenyon. His practice is 100% devoted to personal injury law. Call for your free consultation. 702.888.0000